Hail ! First of all, let's start with the freshest news you could bring from MIDNIGHT ?
We just did a gig in Pittsburgh last week and offended everyone in attendance with our bad taste. There's also a new 6 song MLP to be released early 2008 on NWN! Prod.

Was there a band in your teens that give you the need to listen to Metal music ? How did you discover this music and how old were you ?
In 1984 I was 10 years old and got into Van Halen, Twisted Sister, Motley Crüe, Led Zepplin, Judas Priest, Iron Maiden and the Masters Of Metal K-tel comp !

I saw that you've just released a 7EP "Slay The Spits" whose songs have been written by The Spits, who is this lad ? Let's speak about the cover…how does it happens you choose such an unappealing cover ?
"The Spits" are a current band who I really like. Which doesn't happen too often these days ! So I just recorded them for no reason than another spits fan wanted to release it on 7EP so I said "fine". But it's for sure not my fave released. That just goes with the music, total retardation.

Nuclear War Now produced an excellent double LP containing a great bunch of tunes from MIDNIGHT, who came up with such an idea and what do you think of the result ?
It was Yosuke's idea to release it. I thought it came out fantastic. He does a great job with all this shit.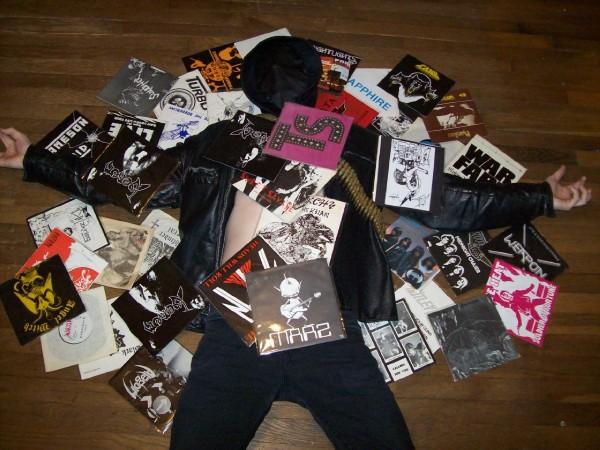 Most of MIDNIGHT album have been released on vinyl so far, does it mean you're collecting Metal through this support and how many records do you have ? What are the jewel pieces of vinyls you could kill to save them ? And by the way, do you buy NWN die hard edition of his releases, if so which was the most impressing for you ?
Yeah of course I've been playing records since I was a young ! They're all very special. I get some of the die hards, my fave's are the Witchfinder General and Blasphemy.

You covered Girlschool "Watch Your Step" from Girschool, is that your favourite tune ? I think that Girlschool have always been underrated, I mean these chicks fucking kick ass ! What is your favourite album from them and do you listen to their new album ?
Girlschoold are just killer ! I love the first three albums and singles. I saw them a couple of years ago in LA and Kelly Johnson made a special guest appearance and jammed couple of tunes. I'm glad to got to see that.

What are the future plans for MIDNIGHT ? Is there any hope you'll tour in Europe ?
I'd love to tour Europe and Japan. I don't think there'll be anymore new recordings after this six song LP.
What does MIDNIGHT stand for ? I mean is there a goal behind your band and why do you feel the need to play music ?
It's just the shit that comes out man ! Those are my only interests playing and listening to music.

Jamie, you're also part of the 80's Thrash Metal band called Destructor that released an excellent LP in 1985 "Maximum Destruction", how does it come you needed to play in two different combos ?
Destructor was the hometown Heavy Metal heroes in the 8à's, so when they got back together in '99 they played for a bit with a different bass player then aksed me to join in 2002.

I know that you're into Metal since a fucking long time, and as you're from USA I'd like to know if you attended to early gigs of legends such as Exodus, Metallica, Slayer, Possessed in the 80's ? How were these gigs and were they much different from actual gigs ?
Yeah going to see those bands when I was a kid was such a rush ! But I always like European bands more and wanted to see Celtic Frost, Kreator, Destruction etc….

L.A. Thrash Metal scene was probably one of the most important in the Metal world, thanks to the number of combos who popped up from there the Metal turned much more violent and aggressive. But now, it seems there's nothing that could stand against conventional release in America, I feel like this country can't offer anymore killer bands as Slayer, Metallica and Exodus do you agree ?
Yeah you really can't beat "Show No Mercy", "Bonded By Blood" and "Kill'em All" !

Let's keep on this topic, it seems the LA Thrash Metal scene is coming back with new and young combos such as Merciless Death, Execution, Malicious Assault…isn't it ?
I really don't pay too much attention. A lot of the newer bands have really good intentions but just sound third rate with a lack of good songs.

Thanks a lot for your time, close this interview giving us the merchandising that is available for MIDNIGHT…
Not much merchandising right now, so make your own !